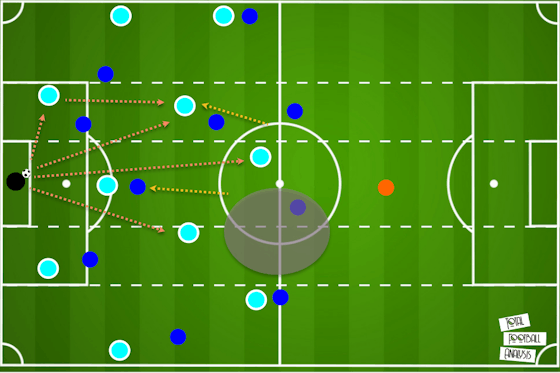 So here it is – the final of this season's UEFA Champions League, an all-English final for only the third time in the competition's history, with Manchester City facing Chelsea. This is the first time City have made it to the final of the Champions League, while it will be Pep Guardiola's third final, having won both his previous finals with Barcelona, incidentally against Manchester United both times. Chelsea, on the other hand, make their third appearance at this stage, having won the competition quite memorably in 2012, with Thomas Tuchel becoming the first manager ever to reach the final of the Champions League in consecutive seasons with two different teams, having been on the losing side with Paris Saint-Germain last season. Another point of interest is that Chelsea have defeated Manchester City twice already this season under Tuchel – a 1-0 victory in the FA Cup semi-final, and a 2-1 win in the Premier League just a couple of weeks ago. Those defeats may influence Guardiola's thinking and team selection, and he has been prone to pulling out some unexpected tactics and systems in big knockout games, which have not always worked out. In any case, this game is bound to be yet another fascinating tactical battle between these two master tacticians, and with some superb players on both sides, it is genuinely impossible to call this final.
In this tactical analysis piece, we will attempt to provide a tactical preview of the final, trying to predict both sides' tactics and approach, while we are aware that this could all blow up in our faces if Pep pulls out another crazy scheme!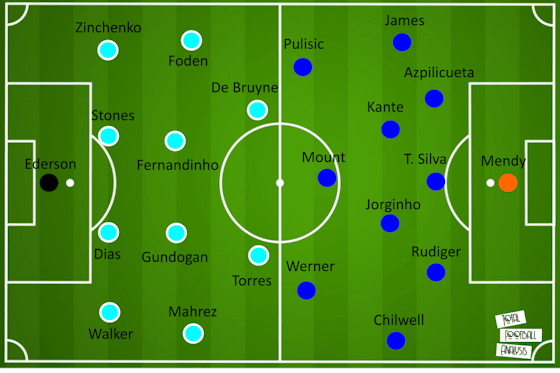 Predicting a Pep Guardiola lineup is like playing a game of roulette – you never know what you are going to get, but this is what we think he is going to do in Porto. While City lined up in a slightly weird 5-1-2-2 shape in their most recent league game against Chelsea, that match had come right on the heels of the Champions League semi-final second leg against Paris Saint-Germain, and with the league title more or less sewn up, Guardiola opted to rest a number of key players, while also potentially wanting to hide his actual approach for the final. City have been very successful while playing in this variant of a 4-4-2 this season, with twin false nines, but while Kevin De Bruyne should come into the XI, we think Pep may play Ferran Torres instead of Bernardo Silva, for reasons that we will explain further in this analysis. We also expect Fernandinho to come into the side in midfield alongside Ilkay Gündoğan, with the Brazilian offering leadership and defensive ability against the counter-attack. At the back, Oleksandr Zinchenko should get the nod at left-back ahead of João Cancelo and Benjamin Mendy, with the rest of the first-choice defence alongside him.
Tuchel has been far more consistent in his team's shape, if not selection, since arriving at Stamford Bridge. Edouard Mendy will continue in goal, with the defensive trio of César Azpilicueta, Thiago Silva and Antonio Rüdiger in front of him, and Reece James and Ben Chilwell at wing-back. Jorginho and N'Golo Kanté will form the midfield pivot, with Mason Mount floating about just in front of them, while we expect Christian Pulisic to start this final alongside Timo Werner in attack due to his pace and dribbling ability, which will be vital against City's high defensive line.
City to go direct to beat the Chelsea press?
As mentioned earlier, the most recent league meeting between these two sides saw Guardiola put out a completely unexpected XI (just one central midfielder!) in an unprecedented tactical system. While we expect most of the City regulars to come back into the XI for this match, and Guardiola to use his usual 4-4-2 as well, there are some aspects of that match which the Catalan coach may well try to replicate, given how they worked against Chelsea.
One of those is the way in which City often went a lot more direct than usual from the back, with clever movement and occupation of space to try and get players through on goal. It is for this reason that we have a sneaking suspicion that Ferran Torres may start this match – the 21-year-old was excellent in that match against Chelsea, using his pace and movement to good effect and able to get away for a decent chance that was saved by Mendy. This was made possible due to the use of two 'free eights' in front of Rodri and behind the two strikers on the day – an approach that we could see being replicated with these players as well.
Another aspect that is likely to be repeated is the way in which City played out of the back through the Chelsea press, with the aim being to isolate Chelsea's central midfielders and give the City attacking midfielders time and space to receive possession and turn.
The next few images show these aspects of that match against Chelsea, which we believe Guardiola will attempt to replicate in Porto.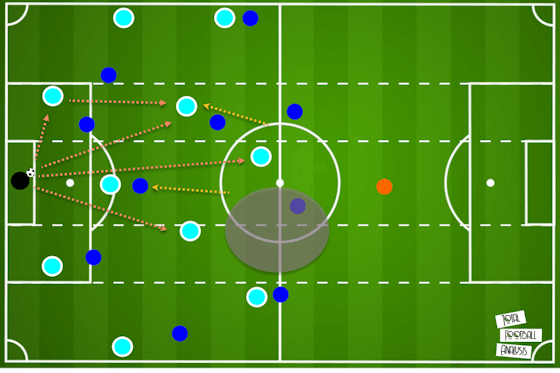 This was the sort of setup that we saw from City in build-up at the Etihad a few weeks ago, and this setup can be easily repeated with the personnel on the pitch. The two City centre-backs will split and stay wide in the penalty area, with Fernandinho staying central. Chelsea try to go man-to-man when pressing high, so Werner, Pulisic and potentially Mount will step up to pressure the City centre-backs and the left-back, with Chilwell also moving high to mark Walker on the opposite side. We expect Jorginho to then have to move high up the pitch as well to shadow Fernandinho, and this will create the space for Gündoğan to drop into that half-space and receive the ball, with Mahrez staying wider to draw out Rüdiger and create separation between him and Thiago Silva. On the other side, Foden will stay wide to occupy Reece James, leaving Zinchenko relatively open as a passing option, while De Bruyne will also drop into the left half-space where Kanté will try to follow him, leaving Torres in space centrally to potentially run at Silva and Azpilicueta. Note that this is extremely flexible – Mahrez, De Bruyne, Torres and Foden can all interchange their positions and roles, and by City will try to manipulate the space in build-up in this manner by going slightly longer than usual as well.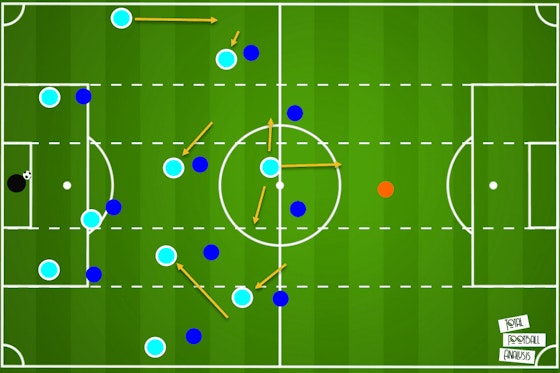 However, if Chelsea keep their two central midfielders deeper to try and protect this space, with none of them moving high to press the City defenders, City will have to be a little bit clever with their movement to try and create space in a similar manner. Fernandinho will need to move slightly wider rather than staying central to drag his marker out with him and open up the passing lane to De Bruyne, or even Foden, who could also come infield and leave room for Zinchenko on the overlap, which would also create a dilemma for James in terms of following Foden or staying wider to pick up the left-back. On the opposite side, Torres can once again drop deep to drag Rüdiger out, with Mahrez also coming infield in a similar manner to De Bruyne to receive and turn between the lines. We believe that City will try to target Chelsea's left-hand side, as Rüdiger usually steps out of the backline to press his direct opponent high up the pitch, and this concedes space behind him and between him and the central member of that defensive trio. In fact, it was through this very channel that City had scored the opening goal in the earlier game against Chelsea.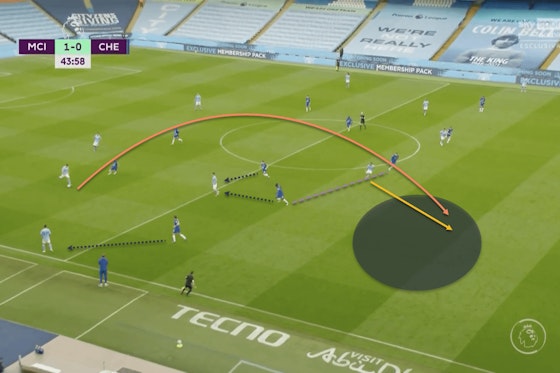 Torres movement had drawn both Rudiger and Gilmour towards him, and with Cancelo wide and therefore occupying Marcos Alonso, Gabriel Jesus was able to make a run into the highlighted space to receive Dias' long ball. Substitute Cancelo for Walker, while Torres' role could be played by Mahrez or even De Bruyne, with Torres then being the one to make that run in behind, and this could be a very profitable strategy for City on Saturday night.
Mount and Kante to drag City's midfield over the pitch?
Of course, Chelsea have some potent attacking strategies and weapons of their own which are sure to cause City a lot of problems in Porto. We expect Tuchel to start with Werner and Pulisic as a front pair due to their pace in behind, which will force the City backline to drop just that little bit deeper, and may also disrupt their shape in keeping Walker central due to Werner's pace. Additionally, the use of Mount as a floating midfielder will be crucial to pulling City's players out of position, in combination with Kanté's surges forward.
In the league game against Leicester City, played just a few days after the FA Cup final, Mount and Kanté's movement proved to be too much for the Foxes to handle, and while City are much better and savvier, Tuchel could ask those two players to perform similar roles here as well. During Chelsea's build-up, Jorginho will drop deep to receive possession, with Torres, De Bruyne and Foden picking up the three Chelsea centre-backs. Mahrez will need to stay wide to mark Chilwell, with Zinchenko doing the same for Fernandinho on the opposite side. With Werner and Pulisic both playing, Walker will almost certainly drop in to form a back three, while Fernandinho will be the one marking Mount. We can see the sort of runs that Pulisic, Werner and Mount will look to make to drag the City players out of position – all three of them are quite capable of coming short to receive possession before spinning in behind, or trying to make runs off the shoulder of the City defenders from the start. This sort of movement will be co-ordinated, with one player coming short while the others keep offensive depth. At the same time, Kanté was able to find space in that match against Leicester by moving into the wide space on the right, and this sort of movement will give Gündoğan a problem – follow Kanté and you leave the central spaces open for Mount to drop into and receive the ball in space, or stay central and risk Zinchenko being overloaded in a 2v1 against James. In fact, if we once again go back to the match between these two sides at the Etihad, Chelsea did find a lot of joy down the City left in the second half, with Azpilicueta, James and Kanté often combining and being able to set either Kanté or James free in space, in conjunction with Christian Pulisic's movement as well.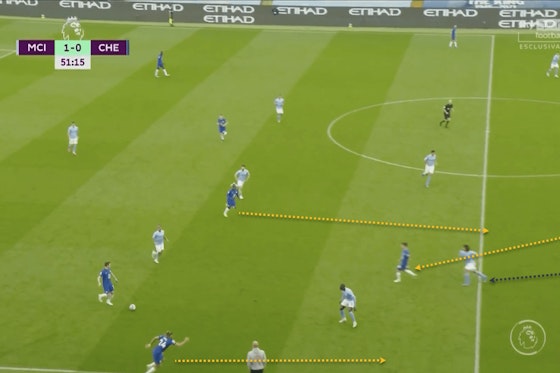 We can see how Pulisic comes short, dragging Ake out with him therefore creating the space where Kanté can charge into, while James also had the beating of Benjamin Mendy on the overlap. Zinchenko has been in much better form than Mendy this season and should therefore get the nod at left-back, but James has the speed and physicality to dominate the Ukrainian as well.
This is set to be an enthralling and fascinating encounter between two of the foremost tactical thinkers in the game today, with their teams having shown multiple times this season that they can carry out a variety of instructions on the pitch. Guardiola does have the experience of both playing and coaching in this game over Tuchel, but the German has had the measure of his Catalan counterpart twice this season already. Strap in for a match that is bound to have a lot of tactical themes and nuance to try and wrap our heads around, with the added bonus of this being one of the biggest games in the football calendar.