Barcelona to appeal Lionel Messi's lenient two-game ban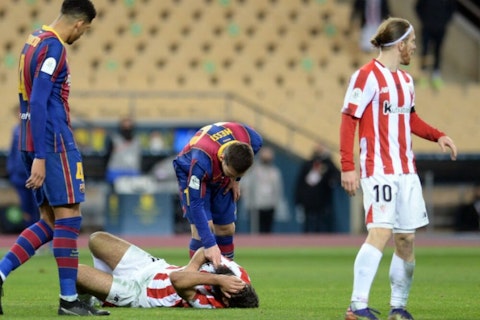 Barcelona captain Lionel Messi has been suspended for two games after the first red card of his club career on Sunday.
It had been expected that he would be banned for four games after being sent off against Athletic Club in the Supercopa de España for an altercation with Asier Villalibre.
However, it has now been confirmed that Messi will only miss two games as a result of his dismissal for violent conduct.
That means he will only be sidelined for the Copa del Rey tie with Cornellá and Elche in LaLiga.
Despite the reduced sanction, Barcelona have confirmed that they will appeal the suspension.
Messi's red card in the Spanish Supercup Final
"He was sent off for the following reason: hitting an opponent with his arm using excessive force when the ball was in play but not at a distance where it was playable," read his report.
Had it been considered violent conduct, then Messi would have been suspended for four games.
If Barcelona beat Cornellá, the Argentine could make his return in the last 16 of the Copa but if they are beaten, his return could ironically take place against Athletic Club in LaLiga – if the two-game ban is upheld by the Competition Committee.