Jadon Sancho wants Dortmund exit with negotiations expected in coming weeks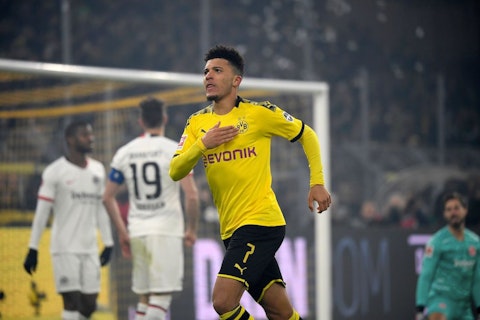 Borussia Dortmund star and long-standing Manchester United target Jadon Sancho reportedly wants out of Germany with negotiations expected to ramp up during the Spring time.
Sancho, 20, who joined Dortmund in 2017 after departing Man City's youth academy emerged as one of the last two transfer window's biggest stories.
A enjoying a hugely impressive breakthrough during last season saw the talented English winger rack-up 40 direct goal contributions in just 44 appearances, in all competitions.
It was to be Sancho's inspired form which saw him emerge as a transfer priority for Ole Gunnar Solskjaer's Red Devils.
A summer of speculation saw the 20-year-old hotly tipped to make a £100m switch to Old Trafford, as per Sky Sports.
Despite the ongoing links, a move during last season's summer window failed to materialise and Sancho remained a Dortmund player.
However, the latest in the ongoing saga comes from Sky Sports' German reporter Raphael Honigstein who recently claimed Dortmund's star attacker now wants out of Signal Iduna Park.
Speaking on the Transfer Talk Podcast as quoted by the Express Honigstein said: "He's [Sancho] beginning to click again. He looks really sharp, he looks up for it.
"But everybody in Dortmund knows nothing will happen in January, the player is not agitating for a move, there's a very clear agreement that transfers of that magnitude at Dortmund will only happen in the summer.
"There was a big transfer announced in January 2019. That was Christian Pulisic [to Chelsea]. But remember, even his deal was the deal for the summer.
"So no one's stopping United, if they went out, and felt really confident, to say, 'let's do this deal now, let's make sure we get in now'. And maybe then announce it at the end of January. That's inherently possible.
"We just haven't seen or heard anything to suggest that they are indeed ready and willing to come back to that negotiation at the moment. I think everyone at Dortmund is under no illusions that the player wants to leave.
"But they think that the offers and the real negotiations will start closer to towards spring when clubs are perhaps in a better position to understand how much money they'll have available for their transfer window in the summer."
Honigstein also went on to hint that Dortmund's valuation could lower.
The Bundesliga side slapped a whopping £108m price-tag on Sancho during the summer which was arguably the biggest stumbling block in the proposed deal.
However, that could change in the coming weeks, Honigstein said: "United are saying 'you're quoting us prices that are pre-corona prices, but come on, that's not realistic.
"And I think there will come a point where the player will also feel that his value needs to be realistic in order for him to be able to move.
"So Dortmund cannot now come back and say, 'you know what, actually, he's had another great season, he's one year older, let's make it €160m'.
"That's not going to happen. But they want to wait, they want to see how much money will Barcelona have this year? How much money will Real Madrid spend, a club that haven't spent any money in the last two years? Are they keeping their powder dry, for a big move?